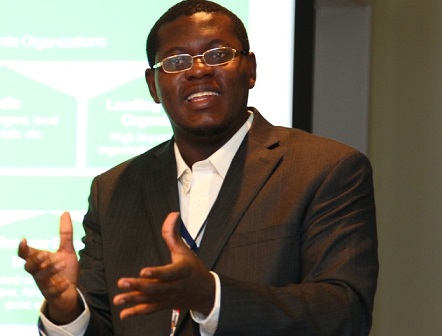 BRIGHT SIMONS
He is a Ghanaian social innovator, entrepreneur, writer and researcher affiliated with IMANI As of 2013, Bright Simons was the President of the mPedigree Network, a self-described 'social enterprise' noted for its work to expose makers and distributors of counterfeit medicines, and for creating a software program called Goldkeys that enables the verification of certain products in some countries. Simons writes for the Huffington Post, Digital and the Royal African Society's online magazine, African Arguments. He is a regular contributor to the BBC's Business Daily programs.
Simons has co-authored research at IMANI. In 2012, The Diplomatic Courier and Young Professionals in Foreign Policy named Simons one of the Top 99 under 33 Innovators for his work with mPedigree. MIT Technology Review included Simons in a list, released August 21, 2013, of the top 35 innovators under 35. He was included on the list for his work in telecommunications. In 2009, Simons was a TED Fellow. The World Economic Forum recognized Simons in 2012 as a Young Global Leader and The mPedigree Network as a technology pioneer.
The International Foundation for Africa Innovation gave Simons a lifetime achievement award for his contribution to innovation in Africa on August 7, 2013. The Salzburg Global Seminar named Bright Simons a Fellow in 2011. He credits his Salzburg engagement as helping accelerate movement of the mPedigree Network from Africa to India and China. Advisory Board of IC Publications, publishers of the New African and Africa Business, among other titles.