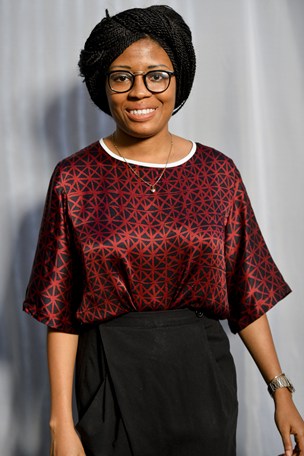 TheOtherStyle, a fashion-focused platform which aims to provide smart fashion and lifestyle related content for mass audiences, has released the definitive list of 50 fashion names to look out for this year.

Featuring fashion industry fast climbers including Meena, Nikki Anyasi, Queen Onyemaechi, and industry mainstay such as Ituen Basi, Maki Oh, Omoyemi Akerele, and others, the list is a diverse assortment of names that will chart the course of the fashion and lifestyle industry in Nigeria through the course of the new year.

TheOtherStyle, an insightful site with exquisite taste, is part of a network of three websites under the newly formed Redux Digital which also includes PartyJollof.com and Sounds.ng.

See link here: http://theotherstyle.com/the-fifty-names-you-should-look-out-for-in-2016/

Please see full list below.

MODELS



Uju Marshall

No model has stayed relevant and as in demand as Uju Marshall. With a stellar year behind her, walking 32 shows at the 2015 Fashion and Design Week behind her and several critically received editorial campaigns to her name and many debating that she is easily Nigeria's first homegrown super model

Seun Logan

Current muse for menswear brand Seun Logan was a revelation at the 2015 Lagos Fashion and Design Week. He quickly followed this with editorials for Naatal Media helmed by Nigerian fashion veteran Helen Jennings. 2016 will be quite a year for Seun Logan as he is already one of the top 10 finalists for the Music Meets Runway model search, where a win will catapult him into relevance.

Toyin Oyeneye

Signed with Ice Models South Africa, Toyin has already landed a coveted GQ Style SA cover and fronted campaigns for Adidas. As he returns to South Africa in 2016 to model and study, we expect him to work his way to supermodel status.

Ninioma Anosike

Ninioma has been quiet since she left Nigeria in 2014, on the heels of her win at the 2013 Elite Model Look Nigeria competition, signed in New York to internationally revered Ford Models, Anosike landed a campaign for MAC, phenomenal considering how rarely the brand fronts campaigns with models of colour. Anosike is the best shape of her life, and ready to become a first grade model in 2016

Olamide Ogundele

More commonly known her instagram avatar, Krusha_Lamar, Ogundele has had a stellar debut year, the dark horse who came out of nowhere to front the coveted editorial campaign for the 2015 Lagos Fashion and Design Week, following the footprints of Uju Marshall. With editorials in print and for brands filling her portfolio, Ogundele is poised to turn all the buzz into success.

Queen Onyemaechi

Winner of the 2014 Nigerian Next Top Model, Onyemaechi was walked in Nigeria, South Africa and Europe and fronted campaigns for CYNIM and Spotlight Spectre. Already anointed by Vogue Italia as the only Africa based global model to watch in 2016, Onyemaechi is ready to turn that prophesy int0 a success story.

Nikki Anyasi

Nikki Anyasi won the 2014 Music Meets Runway campaign in 2014 and parlayed that into a flourishing career in 2014, writing a column for lifestyle e-zine StyleVitae while she worked in print and runway. Distinguished by her now iconic afro, Nikki is perfect poised to soar or sink.

PHOTOGRAPHERS

Lakin Ogunbanwo

Reclusive photographer Lakin Ogunbanwo came out of hiding to pad his portfolio with shoots for Naatal Media, Maki Oh and the Lagos Fashion and Design Week. As he explores his art and hones his style through private shoots and public exhibitions, 2016 might be the year we see Lakin shed his mystery and embrace the mythos of gifted eccentricity that has grown around him.

Babatunde Mason

Babatunde Mason started shooting with his father's camera in 2012 as part of the three man collective over at Blackfabulousity.com. Come 2015, Tunde Mason has transitioned from enthusiastic amateur to real contender, working with established brands like Grey Projects, Tiffany Amber, Grey Velvet and a cover for Ignite magazine. With his eye for
portraits and his unique take on photography, we contend he will get even bigger in 2016

Seye Isikalu

Creating his niche in fashion portraiture, Seye Isikalu has created a name for himself, photographing many international celebrites including Rita Ora, A$ap Rocky and Ciara. He has also made his name in Nigerian fashion photography in 2015, working on Blanck Digital homeland issue that featured covers with Zainab Balogun, Tiwa Savage, Bankole Wellington and Tolu Oniru.

Ade Okelarin

Through his photography studio Ade Asiko, Okelarin has bulldozed through the Nigerian fashion industry, working on covers for Pride Magazine Nigeria, Blanck Digital, Wow Magazine, FAB magazine and New African Woman. With that many covers in 2014- 2015 we know we will see more of him in 2016.

Jerrie Rotimi

Jerrie Rotimi's niche is in editorial photography, shooting campaigns for T.I. Nathan, high street brand ANL by Annie Leash, Bellanaija, Sisiano and Tzar Studios. With work for satellite fashion channel Spice TV Africa in his portfolio, Rotimi has enough talent to become a major player in 2016

Aham Ibeleme

Aham's 2015 portfolio includes campaign shoots for menswear brands Taryor Gabriels, Josh Amor, Kimono and Timbrel; emerging designers Keem Harun, Nuraniya Studios and MeMeGo,  editorials for Vanguard Allure with Sylvia Nduka and Genevieve with Toluand Genevieve with Tolu Oniru and Zen magazine with Dj Cuppy. 2016 can only get bigger.

Tope Horpload

Tope Horpload is in high demand. Tipped to shoot the campaign for the 5th anniversary of fashion showcase Music Meets Runway, his work for them was the finale for a year that included ad campaigns for high street brand Elan Red, T.I. Nathan, Iconic Invanity and Shop Maju; and editorials for Today's Woman and Vanguard Life.

DESIGNERS

Adeju Thompson

Adeju Thompson made a splash in 2014 as part of that year's Lagos Fashion and Design Fashion Focus programme. With his unique aesthetic of marrying contemporary punk and streetwear designs with inspiration from Lagos, his city of residence, he has thrilled with his subsequent collection System Error and was featured in 2014 as the artist in focus at the Stranger Salon. With a number of projects under his sleeve, critical acclaim and small but fiercely loyal client base, 2016 is the year of Adeju Thompson.

Gozel Green

Sylvia and Olivia Enekwe ended the year with a stocking deal with new fashion retail brand Zazaii, a clientele that includes fashion influencer Omoyemi Akerele, nominations from the Jaguar Lagos Fashion Awards and two new collections. The only way is up for these sisters.

Maki Oh

Amaka Osakwe has conquered the world from Lagos with her immutable voice and her keen eye for design. In 2015 her collection Arodan, debuted exclusively on Vogue, the first Nigerian Designer based in Nigeria to achieve this. Finally setting roots in Lagos by opening her first studio in Lekki, Maki Oh is ready to consolidate her position at top rung in 2016

Maxivive

Papa Oyeyemi's Maxivive made headway at the Lagos Fashion and Design Week showcase with his Harmattan collection 'Arodan' proving once and for all that he deserved his place at the showcase's fashion incubator programme the year before. With a diffusion line MXVV and plans for concessions, the choices Papa makes will be very interesting to watch in 2016.

Orange Culture

Premier menswear brand Orange Culture was part of Nigeria's delegation to the 2015 International Fashion Showcase, was invited to show at premier menswear trade show Pitti Uomo under the Ethical Fashion Initiative, released two collections that featured collaborations  with O'Eclat, TreeFairfax and Shem Paronelli. In late 2015 he announced not one but two diffusion labels, Orange by Orange Culture a sister brand to Orange Culture, and O.C by Orange Culture, a streetwear brand. With that many channels for expression we cannot wait to see where Bayo Oke Lawal takes his brand.

Papa Oppong

Papa Oppong, creative director behind eponymous line Papa Oppong has had a roller coaster year. He graduated from the Radford University, showing 'Poison' a ten look collection as part of his graduation requirements. Shortly after it was announced that Oppong had been chosen to join the DC Fashion Incubator programme alongside veterans like Tsemaye Binitie. Graduating in 2016 and already creating a graduation collection that references and celebrates the market women of Kumasi, Papa's work is ready for the big leagues.

Tsemaye Binitie

Tsemaye Binitie was chosen in 2015 as one of two international designers chosen to participate in the 2015 DC Fashion Incubator programme alongside Ghanaian Papa Oppong. Known for his minimalism and intricate cuts, Tsemaye debuted a new direction with his show at the 2015 Lagos Fashion and Design Week, one we hope to see him consolidate in 2016.

Meena

Uju Offiah's Meena has been the critically acclaimed underdog of the Lagos Fashion Design Week circuit. Inexplicably not winning her year, during her turn in the showcase's fashion incubator programme and garnering praise each subsequent year without it translating to commercial success. In 2015 Offiah debuted her most accessible collection yet, one we hope to see open her up to new demographics in the coming year.

Sindiso Khumalo

Known for her minimalist silhouettes, her references to classic art and pop culture in her clothing and her eye for colour, South African designer Sindiso Khumalo is the Meena of South African fashion. Finally garnering critical buzz, we look forward to seeing Khumalo get the respect she deserves in 2016.

Ejiro Amos Tafiri

It took her three years, but Ejiro Amos Tafiri has taken her eponymous brand from suspected vanity project to bonafide runaway success. Embraced by all demographics of women for her flattering cuts and her understanding of the unique needs of women of colour, E.A.T's Spring 16 collection inspired by religious imagery shattered any doubts that she is rock solid design wise.

Ituen Basi

Ituen Basi chose not to show at the 2015 Lagos Fashion and Design Week and she hasn't debuted a collection this year either, but she negotiated a concessionary deal with new fashion retailer MeiDei and is currently still stocked at Grey Velvet and Temple Muse. With all the retail channels sorted, the pressure is now on Ituen to deliver a new collection, and we know she will.

HIGH STREET BRANDS

MeiDei
Risen from the splinters of now defunct retail brand L'Espace, Wonuola Odunsi Okoye's MeiDei has quickly gained prominence, signing major concessionary deals with brands like 24 accessories and apparel, Ada by Alter Ego, Ituen Basi,
Osyby, Meena and Eve and Tribe. We watch to see how these partnerships will play out in the new Year.

Zazaii

The other new retail to rise from the ashes of L'Espace, Isoken Ogiemwonyi's Zazaii came out the hatch running, with concession deals with Purple Lagos, Things Nigerians Love, Lady Biba, Funke Adepoju, Sanusi Lagos, Nuraniya Studios, Ethnik by Tunde Owolabi, DZYN, Kamokini, Andreah Iyamah, Dapmod and Obsidian Way.

Twenty Six

Skirt brand, Twenty Six has grown from retailing only knee length circle skirts via instagram to a fully fledged lifestyle offering accessories, skirts, dresses and a children's line. With the launch of their e-commerce site and partnerships with the Nik-Nak store. Twenty Six might be our ethical answer to Nasty Gal.

Grey Projects

Changing tack, Grey Projects have scaled down on GREY, the high fashion line and focused entirely on high street, debuting a collection at the 2015 Lagos Fashion and Design Week that was edgy as it was wearable. We watch to see what directions Nigeria's first high concept high street brand will experiment with in 2016.

STYLISTS

Tokyo James

Tokyo James has had a busy year. Consolidating his position as editor of Made Magazine with several high profile covers, including Patoranking and 2face Idibia, Seyi Shay and Waje. He's also had to his credit, editorials in Citizen's Magazine Uk, Tiffany Amber's ss15 look book, The House of Tara Colorburst campaign that earned him a Jaguar Lagos Fashion Awards
nomination.

Bubu Ogisi

Super stylist Bubu Ogisi has worked with everyone from Mania magazine and 53 Extra, Nigerian singers Asa and Seyi Shay to the Nigerian delegation to the International Fashion Showcase in London. With campaigns like The Rebahia Spring 2015 collection and the Lagos Fashion and Design Week's editorial campaign, her new flagship store and her forays into interior design, her trajectory over the year will be interesting to watch.

Jane Michael Ekanem

Jane Michael Ekanem has made her name with her styling work for the MTN Project Fame, her collaborations with music juggernaut Yemi Alade and her extensive portfolio in the music and fashion industries. She is most revered for her work with Bolanle Olukanni, turning her into a true style icon in 2015. A true crossover stylist, Jane Michael Ekanem's triumphant return to high fashion styling will be one of the highlights of 2016.

Mag Payne

Fashion stylist Adepena has revamped his image since we first saw him debut as a model for T.I. Nathan, he stayed with the brand, helping craft their image into what it is today. 2015 saw him branch out, taking a styling commission for Star Gist and a couple of other independent shoots. 2016 will be the year we see him go mainstream.

Damilola Oke

Award winning stylist Damilola Oke under her brand Fierce And Modish can be thanked for the style trajectory of singer Waje, presenter Folu Storms and Cobhams Asuquo and Zainab Balogun. She has also done extensive styling work for brands like Gozel Green, Onalaja and Emisara. Oke has already begun to expand her services, creating a menswear styling arm for Fierce and Modish. It will be interesting to see where she takes this.

The ILLUSTRATORS

Okhai Aigbe

Okhai Aigbe's illustrations are vivid and pop-culture influenced, relying heavily on digital manipulation as well as traditional illustration methods. In the last two years he has done extensive work for the brand Toju Foyeh, illustrating many of their important private commissions.

Claire Idera

Claire Idera is the most famous of the new guard of Nigerian fashion illustrators, landing a cover in 2015 and collaborating with several brands as well as organizing illustration workshops for beginners. While she is yet to settle on a signature style, 2016 will definitely put her firmly in the gaze of the Nigerian Fashion industry.

Yega

Yega might seem an obscure name, but her work is not. In 2015 Yega was the only Nigerian fashion illustrator invited to illustrate at Paris and New York Summer Fashion Weeks, an event so rare for a young freelance that many still do not believe it happened. But Yega's work, primarily done in traditional methods using water colours and pencil is world class.

Francis Sule

Sule, an alumnus of the first Fayrouz L'Original fashion competition is slowly building a brand for himself with his illustrations, which focus more on fashion portraiture than illustration. But with his keen eye for colour and his undeniable talent, 2016 could be the year he repositions himself as a serious contender for best illustrator.

Papa Oppong.

Appearing twice in this list is Ghanaian designer and illustrator Papa Oppong, already a top flight illustrator who has caught the attention of international celebrities Rihanna, Beyonce, Rosario Dawson and Amber Rose, Oppong's illustrations formed the basis of his Summer 15 collection 'Poison' proving that illustration need not necessarily end on the page.

ACCESSORIES DESIGNERS

Ethnik by Tunde Owolabi

Tunde Owolabi's Aso-Oke based shoe and bag brand has become popular after a collaboration with fashion lable IAMISIGO and stocking deals with retailer Zazaii. With retailing sorted and a high profile collaboration raising his fashion profile 2016 could be the year he cashes in.

Shem Paronelli

With collaborations with Orange Culture, Kenneth Ize and Lisa Folawiyo and a nomination from the Jaguar Lagos Fashion
Awards Shem Ezemma's Shem Paronelli is arguably the most relevant accessories brand. We look to see how he will leverage these collaborations in the new year.

O'Eclat (nominee for independent bag maker awards)

O'Eclat has been nominated for several international awards, most recently the 2015 independent handbag makers award. She ends the year with a collaboration with menswear brand Orange Culture, a departure from her usual fare of women's bags.

The Bloggers

Mide Coker

Mide Coker started the year with an endorsment as a brand ambassador for fabrics giant Woodin. Taking a step back from fashion blogging to focus on Law School in 2015, the fashion photographer, stylist and blogger has recently graduated and has thrown herself back into personal style blogging, with a renewed focus on fashion photography.

Cassie Daves

Cassandar Ikegbune took a step back from modelling in 2015 to focus on her education. One of Nigeria's most recognisable bloggers, Cassie graduated in late 2015 and has since returned to fashion, walking for select brands at the Lagos Fashion and Design Week and organizing a bloggers offline event with bloggers Berry Dakara and Tuke Morgan.

OmogeMura

Deola Adebiyi's Omogemura rehauled in 2015, moving away from fashion review and focusing more on beauty and lifestyle. Now a prominent beauty blogger, Omogemura's summer editorial was the only indpendent summer editorial released in 2015. We watch to see what she does in 2016.

Akin Faminu

Akin is easily Nigeria's most popular male fashion blogger, partnering with respected media sites like Bella Naija, StyleVitae and Vanguard Allure. Faminu is a strong promoter of emerging designers and we hope to see strategic collaborations from him in 2016.

TheStyleHQ

The Style HQ is the passion project of Bolaji Animashaun, creative director behind the Jaguar Lagos Fashion Awards. Over the year, the site has gone from fringe documenter of luxury fashion to an authority on luxury in Nigeria, organizing their first offline event at the Oasis Med Spa in partnership with brands like Ituen Basi, Raya Jewellery, CLAN and Caven
Etomi.

DeeMako

Adesola Mako of Dee Mako has had a busy year, organizing not one but two offline lifestyle events for the blogger community and its readership. Along with her collaborations with Byge Couture and the Iconola brand, the Deemako brand is pushing indigenous fashion one post at a time.

INFLUENCERS

Bolajo Fawehimi

A former model, Bolajo Fawehimi launched her own agency, Few Models in early 2015, and over the course of the year has managed to scout and sign several of 2015 first faces including Olamide Ogundele and Emmanuel Ahwieh. She has recently launched Few Teen, a subsidiary of her agency and continues to model and mentor.

Omoyemi Akerele

Dubbed the gate keeper of Nigerian fashion in 2014 and honoured as part of international magazine Business of Fashion's top 500 global influencers, Mrs Akerele's work with the Style House Files and the Lagos Fashion and Design Week are groundbreaking. She has expressed big hopes for 2016 and we at the Other Style wait eagerly to see how she achieves them.