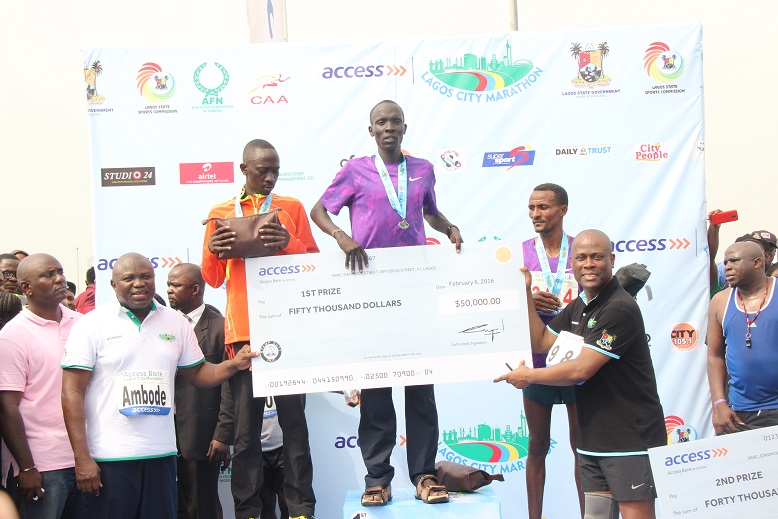 The Access Bank Lagos City Marathon, with over 20,000 athletes had
participants from 13 nations registering to compete for 92 million
naira, the prize money for completing the standard 42.195 kilometres
marathon.

The marathon sponsored by Access Bank, started at the National Stadium,
Surulere at 7 am, taking runners through the major roads of the Old
Lagos, the Third Mainland Bridge to the Lekki - Ikoyi Bridge,
terminating at the Eko Atlantic City in Victoria Island.

Abraham Kipton of Kenya was the first to cross the finish line at
2:16:21 with Kipkemboi Hosea (Kenya) and Debebe Tolosa (Kenya) finishing
2nd and 3rd respectively. Halima Hussein Kayou of Ethiopia was the first
female to cross the finish line at 2:38:36 with Alice Timbill (Kenya)
and Aberash Feyase (Ethiopia) finishing 2nd and 3rd respectively for the
overall female category.

Sharubutu Philibus from Nasarawa State was the 1st Nigerian male to
cross the finish line while Dinatu Yohanna from Taraba State finished as
the 1st Nigerian female.

The event was hosted by Gbenga Adeyinka and had performances from
Olamide 'Badoo'.

"The 42km race is a metaphor for life, the message is for individuals to
stay on track and focus on their journey" said Herbert Wigwe, CEO/MD
Access Bank PLC "We would like to take advantage of this Access Bank
Lagos City Marathon to request that you join your resources with ours to
meet the needs of the underprivileged in our society," he concluded.

There was also a professional wheelchair race of 25km for special
athletes.

The world class marathon had in attendance Akinwunmi Ambode, Governor of
Lagos State; Honourable Solomon Dalung, Federal Minister for Sports;
Hon. Deji Tinubu, Chairman Organizing Committee Lagos City Marathon; Mr
Aigboje Aig-Imoukhuede, President of the Nigeria Stock Exchange (NSE);
Osayi Alile, Head Access Foundation, and others.