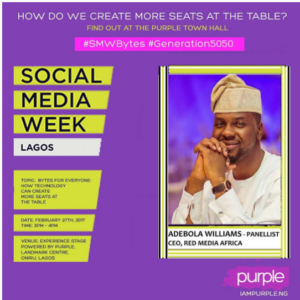 Adebola Williams, co-founder of RED will be speaking on 'How Technology Can Create More Seats at the Table' at Social Media Week Lagos on Tuesday February 27, 2017.
The panel session is organized by Purple, a movement that helps young women and men to reach their potentials and dreams will focus on How empowerment through technology can improve resumes, boost education and the vast opportunities for self-employment/freelancing especially for the women and young people.
Purple challenges negative attitudes around what women and men can and can't do, and give everyone the skills they need to succeed, regardless of their sex.
Other speakers on the panel include; Amaechi Okobi, Group Head, Communications and External Affairs, Access Bank; Maryam Laushi, Communications Specialist, Voices For Change (V4C); Bisi Fayemi, Founder, Abovewhispers.com; Afua Osei, Co-Founder, She Leads Africa; and Chioma Agwuegbo, Social Media Strategist, CC Consulting Services.