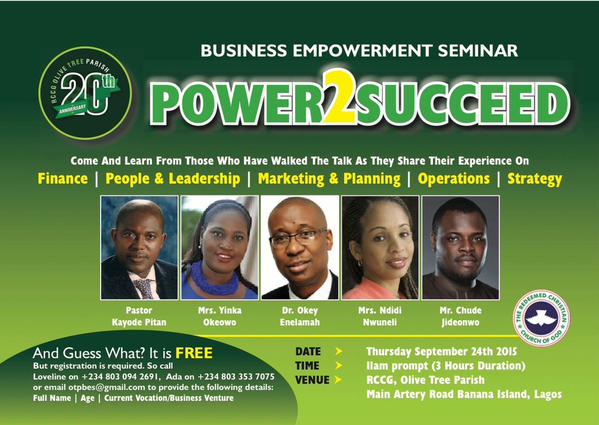 CEO of ACA Okey Enelamah and RED Managing Partner Chude Jideonwo to speak at Business Empowerment Seminar will be speaking at the Business Empowerment Seminar organised by the RCCG Olive Tree parish.
The Seminar is in celebration of the RCCG Olive Tree Parish 20th anniversary.
Other speakers at the event include Pastor Kayode Pitan, Mrs Yinka okeowo and Mrs Ndidi Nwuedi who will discussing topics on People & Leadership, Marketing & Planning, Strategy, Finance and Operations.
Details of the event;
Date: Thursday September 24. 2015
Venue: 11 am
Time: RCCG Olive Tree Parish, Main Artery Road Banana Island, Ikoyi