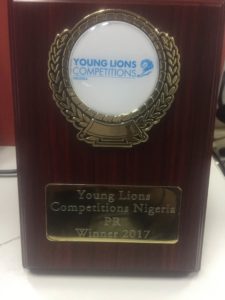 Communication Lead, Brukeme Dickson, and Communication Associate, Ifedayo Adeleye who represented Red Media Africa at the Young Lions Competition  were announced as winners of the PR Category during the award night ceremony which took place on Saturday, 18 March, 2017 at the Muson Centre, Lagos.
Dickson and Adeleye emerged as the 2017 winners of the Young Lions PR competition after successfully designing a communication strategy based on an assigned brief.
#TeamRED is proud of this achievement.