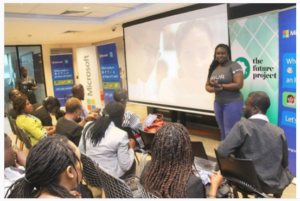 Bukonla Adebakin, DCOO of The Future Project (TFP) will be speaking on the panel session "'Strengthening Youth Participation in Governance Through Digital Gaming'" at SMW Lagos on Thursday 2 March, 2017.
The panel session organized by Youth Alive Foundation (YAF) with funding from USAID is aimed at strengthening youth civic engagement.
Your Excellency game, a role play digital civic game which seeks to educate players on governance will also be launched at the event.
Speakers at the event include: Charles Abani, Chief of Party, USAID Strengthening Advocacy & Civic Engagement; Rex Eyoita, Head of Marketing, TechAdvance; Uduak Okon, Executive Director, Youth Alive Foundation; and Bayo Puddicombe, Technical Director, Pledge51.
Interested participants can register to attend here.