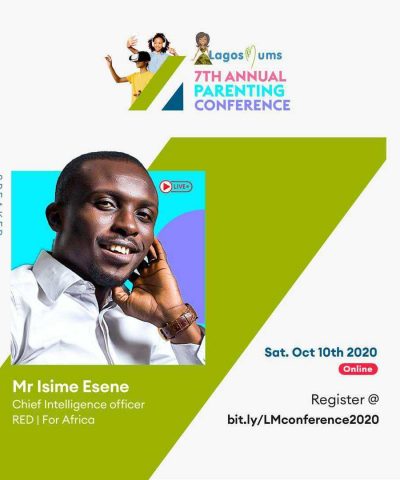 Chief Intelligence Officer RED | For Africa, Isime Esene set to be a speaker at the LagosMums 7th Annual parenting conference.
This years conference is themed, "Gen Z – Growth and Grit" and it is perfect for parents, caregivers, educators or anyone that interested in empowering the youth and the future generations.
It is believed that this is a very timely discussion; as the pandemic has certainly changed our lives both locally and globally. Parenting is a global matter and highlighted with challenges that parents in every part of the world are facing.
The organizers have several panels and experts planned as they will delve deep into how the family has changed! Everyone has gone digital, and the parenting conference has been moved online. This will ensure that the conversation is continued and connected with parents anywhere in the world.
The conference is free to attend but you are required to register in order to get the details to access the virtual rooms online. After signing up you will get the details to join the sessions.
Here's the link; Bit.ly/lmconference2020