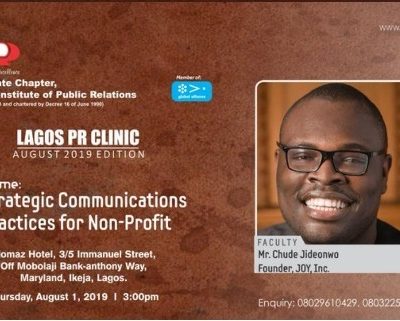 The Lagos PR CLINIC August 2019 edition held on August 1ST 2019 at Elomaz Hotel, Ikeja, where Chude Jideonwo, Co-founder of RED shared some of his edifying insights on communication strategies.
The Lagos PR Clinic; an initiative of The Nigerian Institute of Public Relation (NIPR), is a seminar centered around the interaction of different brilliant minds from across several sectors, giving insight to communication consultants on how to develop and sharpen the skills needed to become a successful communication strategist. The objective of the clinic is to educate people pursuing a career in Public relations on how to keep up with and leverage on trends, how to become ingenious, and become leaders in their field.
The PR clinic which has featured very prominent speakers over the years decided this year to add, Journalist, Author, Media entrepreneur, and founder of Joy inc; Chude Jideonwo to its line-ups.
In this month's edition of the Clinic, themed Strategic Communication Practices for Non-Profits, Chude Jideonwo spoke on his journey so far with PR and his NGO; The Future Project. Through his experience with The Future Project for the past ten years, his recent stint with his newly commissioned mental health centre, Joy Hub, he was able to shed some light on some of the challenges and obstacles communications professionals are set to face as they journey into the world of communication.
He was able to inspire the spectators present, with his comprehensive run down on strategic communication for non-profit organisation, he spoke on developing a customized communication strategy plan to reach out to NGO's organization's stakeholders which included a mix of stakeholders, donors, media, recipients through multiple channels.
He spoke not only on strategic communications, but also emphasized the importance of creating a single minded message, stating that a single-minded message is the foundation of an entire campaign's existence and it often needs more a passing thought.
He stated 'Many non-profit leaders fail to make communication a true priority. To be successful, they need to develop and constantly reinforce an internal culture that values selective communication as a programmatic strategy'.
The clinic which as insightful all thorough ended in a positive note, with Chude's speech hitting home for the participants in attendance.