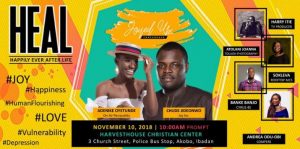 Joy Inc. founder, Chude Jideonwo will be speaking at the Joyed Up conference on 10 Saturday, 2018 at Harvest House Christian Centre, Ibadan.
The theme of the event is 'Heal – Happily Ever After' will feature other notable speakers; Award winning blogger and TV producer, Harry Itie; Creative Director of Cyrus 45, Banke Banjo; Sokleva Hughes of Rooftop MCs; Ace OAP and founder of Amputee United, Adenike Oyetunde, and leading photographer, Atolani Joana.
Joyed Up conference is a multifaceted platform that uses Joy as a tool to help individuals in Africa overcome depression and enhance their productivity.
To register and attend the event click here