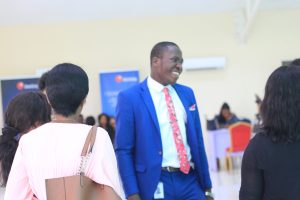 RED | For Africa Talent Associate, Dominic Nelson, addressed postgraduate students during a career fair on Wednesday, 10 April, 2019 at Covenant University, Ota, Ogun State.
The fair was organized to give young talents career counsel and guide them on possible career paths. The students also had the opportunity to have their resumes reviewed.
It was also an opportunity to speak with exceptional students to ascertain their suitability for job openings at RED | For Africa.
Representatives from other organizations such as Sterling Bank, Sigma Pensions and others were also present at the fair.