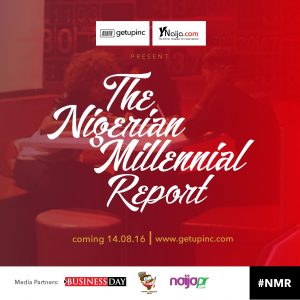 In January 2016, GetUpInc conducted a research across multiple urban centers in Nigeria and the relevant data gathered were entries of participant millennials.
Millennials are the largest demographic that consume online content and will constitute 75% of the workforce by 2020 with a high aggregated purchasing power.
Millenials are also the major influencers of marketing decisions and strategies.
With the Nigerian Millennial Report, Nigerian (African) brands can now make better informed decisions; instead of making marketing decisions based on intuition or statistical data of other countries.
The revised version of the report was launched on 14th August, 2016 by 5pm in Lagos.
A free copy is available for DOWNLOAD