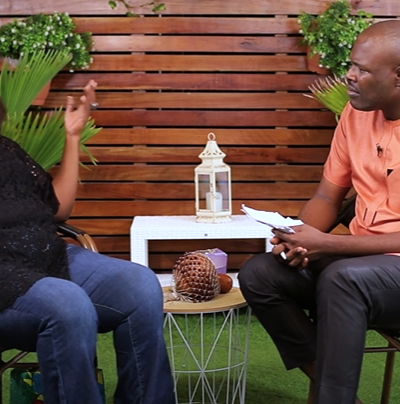 On this episode of #WithChude, award winning actor and entertainer Ada Umeh, opens up to host Chude Jideonwo about her life's journey, discussing career, early motherhood, and her daughter's death.
Known for her excellent interpretation of scripts and her roles in movies and TV shows such as The Johnsons, My Village People, Domitilla, Phone Swap, and recently Olutore, the actor spoke excitedly to host Chude about recent projects like Oloture and a comedy skit with MClively, exuding gratitude and love for life and her craft.
Regarding Oloture, she said: "I was very happy to speak in my native dialect which is Idoma".
Sadly, 2020 was a hard year for the actor as she lost her only daughter on the 20th of October. Commenting on her loss, the actor confessed that life and work has never been the same since her child's death. She said: "I am just trying to get myself now. She is, she was, that one that could look me in the eyes and tell me the way it is without mincing words, my cheerleader, my gossip partner, my best friend".
The actress also spoke about being a fangirl of love and dating in the industry.
When asked about the picture of her lover posted by her on her Instagram page by host Chude, she said: "We have been dating for six years. I love this man and I am not pretending about it, and I think he loves me too".
Twenty five years after her debut, Ada Umeh continues to enjoy a successful career, gracefully leaping through hurdles, and she attributes this to God's love and grace on her. "The only jazz that made me be here today is God", she says.
Watch The Video Here:
https://www.instagram.com/tv/CV9sGFqjntt/?utm_source=ig_web_copy_link
#WithChude is a special series of targeted multimedia conversations and investigations focused on narratives that enable and strengthen the mind, heart, and spirit.
All past and new episodes of #WithChude premiere on Saturdays at 7am on watch.withchude.com. You can also watch the show every Saturday on Channels TV at 1 pm, with reruns every Sunday on Wazobia TV Channel 98 at 5 pm, every Tuesday on Rave Tv at 5 pm, every Wednesday on Pop Central Station DSTV Channel 189 at 8 pm, and every Thursday on EbonyLife TV StarTimes Channel 189/191 at 7:30 pm.
An extended play podcast is up on listen.withchude.com, as well as on Apple Premium.
Everyone can join the conversation.