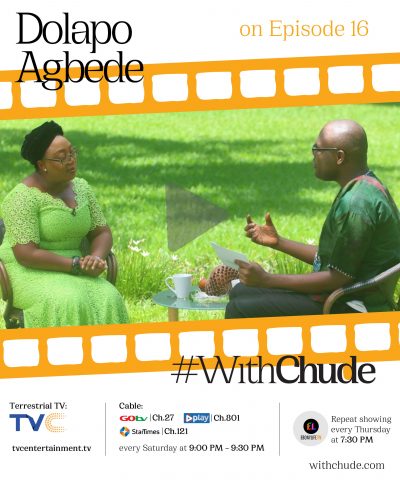 This week's episode of #WithChude explored a conversation that is rarer than the condition that should prompt it – sight loss. Show host and co-founder of Joy, Inc. Chude Jideonwo sat down with Dolapo Agbede in a conversation that leaned into the Heart part of the show's byline #MindHeartSpirit. A consultant on productivity and inclusion, Ms. Agbede shared her journey since she began losing her sight to advanced glaucoma in 2007.
"I started losing my sight tangibly in 2007," she disclosed, "The Dolapo that is in front of you today is not the same as the Dolapo of August 10, 2007, when I was told I was at risk of retinal detachment in both eyes, for a condition I didn't even know I had, to speak less of it being so advanced. So I was definitely devastated."
Being in the thick of a burgeoning career made this devastation even more pressing.
Despite what multiple surveys show, for instance, that 1.1 to 1.4 million adults in Nigeria have glaucoma, the subject is not broached often enough, and support can be hard to come by when one loses their sight to it. More disturbing is the fact that most of those who have glaucoma are not aware that they have the disease.
Dolapo's vision impairment is such that she can make things out, but not in the defined way a person with unimpaired sight is able to.
"I'm looking at you, you're just a frame. I don't see your features," she revealed. "My glaucoma because that's what's going on with me, has progressed to the point where I'm actually legally blind."
Even though glaucoma is one of the leading causes of vision loss globally, and the number of people with glaucoma worldwide is expected to rise from 64 million to 76 million in 2020,  with Africa and Asia being affected more heavily than the rest of the world, somehow there are fewer reported cases in Africa as a whole and Nigeria specifically.
Dolapo's story of desperately searching around with little success for a case similar to hers, for someone thriving at least despite the vision loss if not because of it, is not uncommon. Her resolve to chart her own course is however nothing short of extraordinary.
While on the set, she gently held the host and viewers' hands and walked them into a world they can only imagine, showing everyone how easy it is to do life with grace and boundless joy no matter what life throws at us. It is heart at its finest.
#WithChude is a special series of targeted multimedia conversations and investigations focused on narratives that enable and strengthen the mind, heart, and spirit. New episodes of #WithChude show every Saturday at 9 pm on TVC Entertainment, and every Thursday on EbonyLife TV at 7:30 pm. With an extended play podcast up on Spotify, iTunes among other podcast platforms every Wednesday at 10:00 am, everyone can join the conversations.