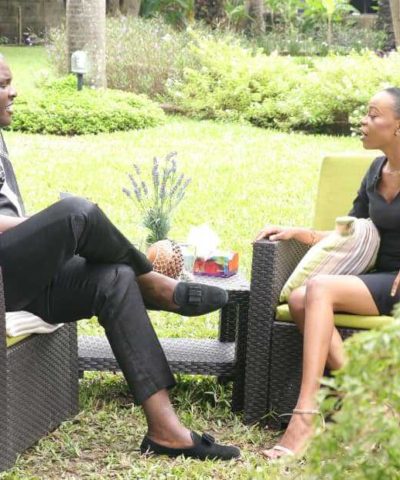 On last night's episode of #WithChude, Chioma Nwosu, mental health advocate and founder of Olamma Cares, opened up on her first experience with a mental health challenge, her subsequent diagnosis of depression with personality disorder, and how she sought help at a psychiatry hospital despite the societal stigma associated with it.
"The perfect representation of how I felt was me in a country as busy as China, everyone walking hastily past me and I felt like my life slowed down in the midst of this chaos. I love to work a lot but at a point I just could not do it anymore. I was forcing myself to do so many things. It seemed the world was going too fast. I was planning a fundraiser for an NGO and things were supposed to be going well, I think I had gotten to the point I couldn't do things alone anymore. On this Sunday morning, I was dressed up for church and I suddenly took off my clothes and wanted to go for a drive. Everyone in my family was scared. I went probably insane in that one-hour episode. Until then, I had never known what a panic attack felt like but I had one. My mum was screaming, I was screaming, it was a total chaos that morning," she said.
"At first, I did not want to call it depression. But I was feeling sad all the time. I started making mistakes at work, I always wanted to cry, and I just knew I needed help. I got the number of a therapist, and I called her.When she heard my voice she said I sounded so sad and could tell I needed help. That night she talked to me to make me feel better before we scheduled a meeting."
When asked about how she started her mental health NGO, she said, "I started it primarily to help people around me. I discovered that my parents and other people were always talking to me about what they were going through, and the struggles they had to live with daily, then it occurred to me that I could start something to help these people.
"I feel young people dealing with mental health challenges need to speak up. I think my coming out with my own struggles has helped a lot. I currently have projects to help the youths, the people my age, to deal with their mental health struggles."
The #WithChude episode with Chioma Nwosu will air again on EbonyLife TV, DStv channel 165, this Thursday at 7:30pm and a repeat episode the following Sunday, at 8:00pm. The extended version of the conversation will be available on podcast this Wednesday, at 10:00am. New episodes of the show air every Saturday, between 9:00pm and 9:30pm on TVC Entertainment.