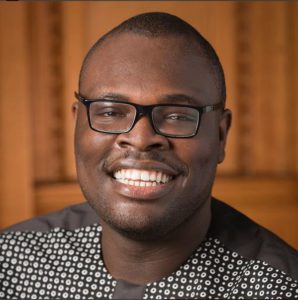 "Yes Sir. It is because you are the CEO. It is assumed that the CEO earns more than a Director."
That's the answer our chief financial officer gave when, for the umpteenth time, I asked why my tax bill from the Lagos State Government was not only so high, it was also higher than any other director, even when I actually earn the least.
Each time we try to explain to them that we do thing differently at RED – the chief executive position doesn't come with more money, and comes with almost no perks – it makes no sense to them, and so they have refused to believe us.
It frustrates me deeply, and then it makes me smile.
You see, I have always called myself an accidental entrepreneur. Running a for-profit business has always been an ill-fitting cloth covering a non-conformist, activist, no-boxes person.
It took me a while to understand that basic assumption in a cynical world: that many people become entrepreneurs just to make money, not because they believe in what they do.
I remember clearly the first time a person accused me of putting up a controversial article on YNaija.com 'because it would bring in traffic'. It really stung. Ah, it really did. I had put up the piece (that I disagreed with) because sharing minority voices is one of my fundamental missions, and to see it reduced to naira and kobo did something to my spirit. It still stings even today.
That's why it often confuses me when people wonder why I criticize (quite harshly) the Nigerian president, even though one of our companies worked passionately for his campaign. It seemed quite simple to me as a central organizing principle: not even the desire to keep a client, to keep an account, to make some more money, should override the defining purpose of setting up business, which is to inspire young Africans to have a voice, and to take action. To build movements, to hold governments accountable, to solve problems, with the media as our tool.
It's ridiculous for me to say this, being a 32-year-old who has seen some of the world, but it only hit me in the past couple of years the crux of the capitalist ethic the world has today – enterprises build wealth, and the wealth is first and foremost for the benefit of the persons who built the enterprise.
I never quite got that. And so because I didn't get it, I didn't run RED like that. A colleague said to me a few years ago: 'If we tried to hire a CEO for RED, it would be incredibly hard, because it is not an attractive office'. I nodded, proudly.
My co-founder, Adebola Williams and I agreed to build it this way. To avoid a focus on profits and perks – not a premium economy seat (not to talk of business class), same hotel rooms as every team member, no special office (I share), not an official car (when the company decided to brand cars for its team members two years ago, I offered my personally-bought car to be branded too), because modelling a behavior where money is seen as only a tool, not as an end, is of deep importance to me.
Because at RED, leadership has always been a question of service, not power.
We are a business because we want to be sustainable, we are profitable because we want to change the world on our terms, but in our hearts we are something that goes beyond binaries: we are – like another team member said to me in a November text message – "a soul."
We don't just have a soul, this corporate personality IS a soul; it breathes, it feels, it holds, it cares for, it bleeds, and it loves.
We have built an alternative reality in a society often defined by hostility, where each of our leaders is deeply passionate about seeing young people grow, where there is no budget ceiling when one of us is in need. Where our sexual discrimination rules have been clear from before it became fashionable. Where women have always been the bulk of our leadership before 'diversity' and 'inclusion' became buzzwords. We have created a space where there is, yes, love. And, yes yes yes, joy.
And so, it wasn't at all difficult, once I intuited that my assignment was done, for me to willingly step aside.
When I told the board in the first quarter of 2016 that I would do this in December 2017, taking the two-year period to accelerate our succession planning, no one really believed me. Why would I leave the top post in a growing company I co-founded when I was 19, and built from zero naira (no debt, no investment, not even an account number), with my sweat and health?  
"I was a bit worried when you said you were going to leave, but then, only a bold leader like you can leave his hard work to see what his fruit will produce," one of our senior managers said to me in another message towards the year's end, when it dawned on her that this was actually happening.
I smiled at the world 'bold'. There is a misconception amongst many who have watched me for almost two decades as I have confronted the world, and especially as I have co-built RED, that I am fearless: full of certainty and courage.
But there is no boldness here. Only truth.
By employee size (57 at the moment) or by revenue, RED is a small company, even if it has done big things. But a thing's intrinsic worth does not depend on its bulk; it depends on its substance. 
And here is our substance: that RED is a movement. That RED is an essence.
That RED is something I love with all of my heart. And it is because of the depth of that love, that – even in this low-trust, high-cynicism society – I am confident to hand it over to those who love it just as much as I do, so that it can achieve its truest, highest potential.  
Not just by ceding its executive leadership but also by giving out some of my equity to its leaders, just before I left. Not as an incentive for talent acquisition scheme, but as a labour of love. They have loved it so much; I am compelled to give to them that which I consider precious.
I also step aside because I have fallen in love again – with a new assignment to be unveiled on 1 February called Joy, Inc. (we pay careful attention to the comma and the full-stop!), a company completely separate from RED whose purpose is my life's mission in its simplest, truest form – I want to make people happy.
We have a generation, in Nigeria for instance, that's beaten down and broken, cynical and confused, millions of our youth struggling with depression and unhappiness, lonely and alone, suicide rates and substance abuse exploding. We are afraid to be vulnerable, suspicious of goodwill and grudging in compassion. This worries me deeply. Because a cynical generation can't find its center, can't build on hope, and can't find joy.
Working with our global advisory board of researchers and psychologists from Yale, Fordham, and Yaba, we want to teach everyone how to be resilient, how to face adversity with dignity and meaning, how to curate a life of purpose and joy.
Registered as a benefit corporation in the United States, with a Nigerian subsidiary, Joy, Inc. (
www.joyinc.xyz
) is business for public good rather than private wealth, with all its profits invested in specific charities. We just held our first event this year – The Joy Masterclass – and payments for the event were made directly to the Hearts of Gold Children's Hospice, and Mentally Aware Initiative Nigeria.
In a sense, you could say I am taking the spirit of RED, and I am taking it to communities, companies, organisations, churches, temples, mosques, schools and nations across Africa.
And I leave with the proudest personal accomplishment ever: 100% staff retention (100 percent!), 94% joyful team members per our latest independent, anonymous talent audit, and a 96% trust rate, per our last (also anonymous) survey.
It has been the honour of my life to be able to build the foundations of this beautiful movement. 
And I am incredibly excited about the future.
Now, I am eager to see how it all goes.  Because t
hat's the fun of life's journey. To be your truest, best self, even if fear rings a bell somewhere in your awareness.
To do whatever the hell you want to do, just because your heart sings when you do it.
To do what you need to do because it feels true to your spirit.
And I'm just following my truth…
now Chief Storyteller at RED