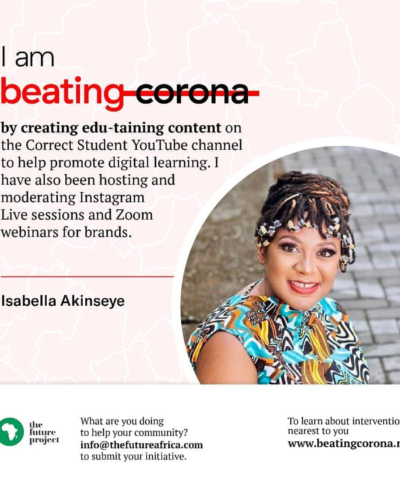 Nigeria's foremost intervention database, BeatingCorona has rolled out a new awareness campaign to inspire radical responsibility and spotlight how people across various industries, demography and location are fighting the coronavirus.
This campaign which is tagged "How I am Beating Corona to #Savethefuture" has enlisted an impressive cachet of celebrities and influential figures who have greatly boosted the inspirational message. Using their visible platforms to share the huge and small ways in which they are contributing to the fight against Covid-19, this campaign, since its launch on Monday, 18 May, has garnered a sizable engagement from everyday Nigerians.
Actors such as Juliet Ibrahim, Etim Effiong, Nse-Ikpe Etim, Ruth Kadiri, Journalists and advocates like Kiki Mordi, Segalink, culture influencers and shapers in the likes of Tosin Ogundadegbe, Chigurl, Adebayo Oke-Lawal, Frodd, Latasha Ngwube amongst many others, all make up the list of the personalities headlining this campaign.
The BeatingCorona Project Lead, Bukonla Adebakin, shares that "This campaign is important to our platform's commitment to encouraging a communal effort towards beating the coronavirus in Nigeria. The idea is to inspire ourselves by sharing the mundane ways in which we are playing a part in flattening the curve.
Whether it be in small ways like staying home and discouraging visits while learning something new or virtually connecting with family or in big ways like supporting intervention initiatives, or making substantial donations of money, time or expertise." "We want everyone to know that no action is too inconsequential, so long as it helps to keep us all safe and fights against the virus in some way."
The #BeatingCorona can #Savethefuture campaign is still ongoing and according to the BeatingCorona team, will hold on strong until many more people are on board and consciously taking responsibility.
The beatingcorona platform is a virtual database that also brings interventions closer to those who need them. It was established by The Future Project in partnership with Y!Africa and has recorded over 500 intervention initiatives across Nigeria, since its inception.