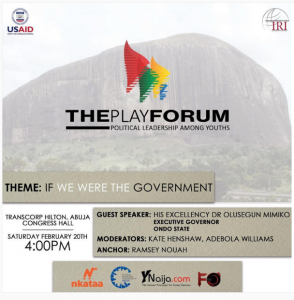 Co-founder of RED, Adebola Williams will be speaking at The Play Forum event happening on Saturday February 20, 2016 at the Transcorp Hilton Hotel Congress Hall.
The Political Leadership Among Youths (P.L.A.Y.) Forum is a body consisting of influential and elite youth in the Nigerian society set up to promote and inculcate youth engagement in matters of the nation.
The Forum themed 'If we were the government' will allow youths discuss what the policies they will put in place do if they were in government and also analyze the current issue that's affecting the average Nigerian.
Governor of Ondo state, Dr. Olusegun Mimiko is the guest speaker for this year's edition.