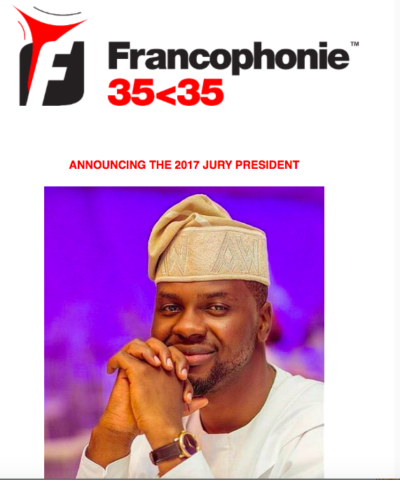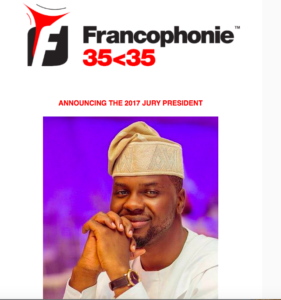 Adebola Williams, Managing Partner, RED and one of United Nation's 100 Most Influential People in Africa, has been announced as President, Jury for Francophone 35 Under 35 for the 2017 'Prix Jeunesse de la Francophonie 35 < 35', an event set to hold on September 16, 2017 in Abidjan, Cote d'Ivoire.
Currently in its second year, the 'Prix Jeunesse de la Francophonie 35 < 35' is a leading awards initiative that recognises 35 young French-speaking innovators under 35 years old making exceptional contributions to their communities.
Popularly called 'Debola Lagos', Adebola Williams is an alumni of the London School of Journalism, London School of Marketing and the Pan African University, Lagos. He is British Council Global Changemaker, a member of the African Leadership Network, and also sits on the boards of Slum 2 School Initiative and Young Entrepreneurs Network.
A member of President Obama's Mandela Washington Fellowship, Adebola's profile recently earned him a unique deal as the first entrepreneur ambassador for Africa's leading telecoms company, Globacom. He has been named CNBC Young Business Leader of the Year, Forbes 30 Under 30, and Businessday 40 Under 40. In 2017, he was named 'Evangelist of The Future' at the C4F Davos Award.
Speaking on the choice of Mr. Williams, the Founder, 'Prix Jeunesse de la Francophonie 35 < 35', Mr. Richard Seshie said, "We could not have found a better candidate to suit this position for this year. Adebola co-founded and currently leads The Future Awards Africa, which is the continent's biggest youth awards event. But more importantly, he has become a superstar and icon for what it means to be a youth on the continent, breaking boundaries and reaching new heights whilst maintaining a deep sense of identity."
Recently profiled by Forbes as 'The man who helped three Presidents win elections' in Africa, Adebola Williams leads RED, which is home to several well-known brands such as StateCraft, Y!/YNaija.com, and Red Media Africa which boasts of an impressive client list over the years that includes the British Council, Nigeria LNG, Union Bank, Facebook, Uber and Intel.
Speaking after the announcement, Adebola Williams said, "It's an honor to be called to serve. I believe that African youths are the light of Africa, and everyone has an important role to play in determining the future of the continent. The more we can successfully identify those lighting up their little corners, the stronger the light will become, and then we will change our story from Black Africa to 'Great Africa'."
Successfully building a formidable brand over the years, Adebola also moonlights as an actor, appearing in Nollywood's biggest-budget film, 93 Days, including stage plays such as London Life and Lagos Living.