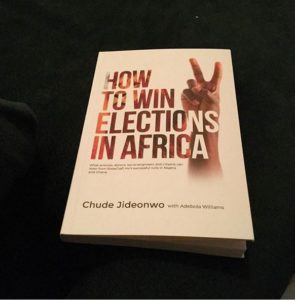 Chude Jideonwo and Adebola Williams, co-founders of RED, launched their new book, 'How to Win Elections in Africa: Parallels with Donald Trump' at Yale University, Connecticut, USA on Wednesday, 8 November, 2017.
The book draws from decades of experience of the authors working with and understanding electorates across African countries, as well as from global trends and attitudes the world over, to highlight the roles that factors such as legacy, political parties and other establishments play in determining the outcomes of elections.
It represents a comprehensive guide that will help aspirants, political actors, civil societies, donors, social activists and most importantly, citizens understand the tectonic shifts taking place in the electoral ecosystem across the world.
In attendance were Bishop Matthew Kukah, Bishop of the Roman Catholic Diocese of Sokoto; Yinka Adegoke, Africa editor for Quartz; Eddie Mandhry, the Director for Africa at Yale University; William Casey King, the Director of Capstone programmes at Yale's Jackson Institute for Global Affairs; Lorna Solis, Chief Executive of the Blue Rose Compass at Yale and Jeremy Seekings, the Director of the Institute of Democracy, Citizenship and Public policy in Africa at the University of Capetown.