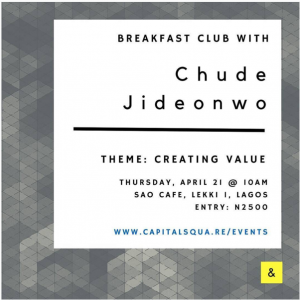 RED Managing Partner, Chude Jideonwo will be speaking at the April edition of CapitalSquare's Breakfast club on Thursday 21 April at SAO Cafe, Lekki 1, Lagos.
Breakfast Club is a breakfast lecture and networking series, where a small group of entrepreneurs over tea, coffee, and an array of breakfast foods,  network with and learn from the stories of seasoned business people who've walked the path of entrepreneurship before us.
The programme includes a short talk, a Q & A session, and conversations over breakfast.