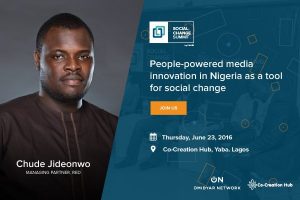 RED Managing partner, Chude Jideonwo will be speaking at the Social Change Summit 2016 happening on Thursday 23 June, 2016 at the Co-Creation Hub, Yaba, Lagos.
He will  join a panel  discussing the topic  "People-powered media innovation in Nigeria as a tool for social change" at this year's edition.
The Summit seeks to leverage the current state of the country to mainstream conversations on how to mobilize resources, creativity and partnerships to drive transformational change across the different systems that make Nigeria function as a good society.