I had a spirited conversation two days ago with a journalist friend. His complaint happened to be something I have been passionate about for a while now: journalists are tired of reporting on ineffectual activities for agencies, and clients who appear to have nothing new to say.
Indeed, colour me disdainful of "ineffectual activities" – this kind of media relations (which, for many in Nigeria, is the major Public Relations activity) I call '2 tweets and 1 press release'.
You do something – anything – without thinking through how effective it will be with the press or with the public. Then you start struggling for the same one page with a million other brands who do the same clichéd, ultimately inconsequential projects – like reality shows.
I have nothing against them of course, especially since my first official PR assignment was for The Apprentice Africa in 2008. But here is the deal: one brand launches a reality show, and every other brand decides that a reality show, in the exact same format, in the exact same segment (music, fashion etc) is the new deal. Then they spend the new few weeks sending dueling press releases to the very same journalists, in the very same sections of the newspapers.
At the end of the engagement period, four lucky young people get 100,000 Dollars or thereabouts, build that one career, and over 80 percent of them are soon forgotten. In an analysis done by our team, the data shows that there is an 87 percent failure rate for winners of A-list reality TV shows, with a 'relevance' period of, on the average, 10 months.
Between the eight winners of MTN Project Fame, the three winners of GloNaija Sings, and the five winners of Nigerian Idol, only 2 – Iyanya and Chidinma Ekile – have gone on to remain relevant in the industry. That's 12.5%.
The three shows have also become less popular over time, the data shows. Glo Naija Sings ended after three seasons because it could not compete with Project Fame and Nigerian Idol, and even Nigerian Idol is not as popular as it used to be.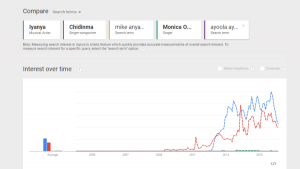 The effect of this is a lack of any effect.
The journalist isn't convinced about the utility of the engagement and thus reports it without passion. He finds it difficult to justify space to what is clearly a commercial story. The show itself didn't log in as many viewers as it could. The winner-ambassador of the brand can't sustain celebrity value.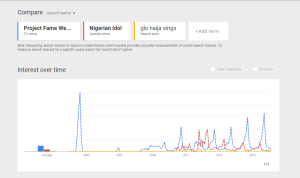 No one cares about the show, No one loves and trusts (which is the whole point of PR) the brand more, because of the show. Finally – and the worst of everything else – the world is not any better as a result of this 'activity'.
Let's try a radical idea.
We already know for a fact now that reality TV shows do not create stars. For reasons including media fragmentation, fickle consumer behavior, saturation, a comparatively weak media market, small celebrity spaces, amongst others. So, that engagement is, literally, a gamble.
Call it 'kalo-kalo PR'.
However, we also know there is a proven model for creating stars, led by knowledge-driven experts like Don Jazzy, Audu Maikori, even Olamide.
Now, there are thousands of young people across Nigeria who want to be superstars. They want to be successful musicians AND successful celebrities. Many of them will fail, but many will yet succeed.
So, a brand decides to go around Nigeria, and to spend a few days taking these celebrities to meet these eager, earnest young people in their natural habitats and teach them how exactly to succeed in the music industry: how to book studio sessions; how to find a record label or succeed without one; how to build relationships; what kind of sound the public wants; how to differentiate your brand; how to 'apprentice' with known stars; what kind of contracts to avoid; what kind of producers to align with; how radio stations select music, and how to avoid press that kills your brand before it even stands on one leg. (I'm looking at you, Skiibi)
So, how do you teach a young man in Enugu how to build an audience using the Chioma Jesus model?  And then build that model into a local audience, expanding into a national audience and then an African milieu, like Flavour…
How about spreading the effect of your PR activity across 1,000 youths with direct engagement (a captive audience), letting them be your ambassadors at no cost to other aspiring young people across the locales you visit? Give them small monies f0r studio sessions (the chances of success are no more or no less than if you give them 4 million at the end of a boring 4-month-show). Give them your products to test and spread.
Watch them be deeply grateful for the actual skill you have given them. Give the journalists change they can actually believe in. Differentiate your brand from the motley copy-copy crowd. End the trainings with a massive concert –  if you absolutely insist on hosting a show. More importantly, build a band of success stories (the conservative mathematics favour at least 10 of them becoming bonafide stars) that you can leverage on for years and decades after, when the success stories come – as they must.
In the short term, you generate real social media buzz, actual engagement as people voluntarily live tweet their experiences (rather than the forced begging of votes), column inches, because the journalists have something different to say. It is earned media because this doesn't look immediately commercial. Get celebrity association with your brand in a way different from everyone else, and mention in other aspects of the media in addition to entertainment.
Why aren't we thinking deeper about engagement that will actually work in the Nigerian and West African contexts?
Here's one reason: there are too many people that think that PR and empowerment can't go hand-to-hand. They think that development should be left to CSR department. It is believed that you cannot empower people and then use that traceable, genuine empowerment to connect with them – to spread your messages and to drive engagement, sales and retention.
Those people are not paying enough attention to the numbers. They are not paying attention to what the public actually wants in 2016. And they are wasting money.
***
#RedefiningPR is a periodic column by Chude Jideonwo, Co-Founder and Managing Partner of RED that helps the public think through effective ways of spreading messages, reaching audiences and going viral. Red Media Africa is the PR & Communication company under the RED group (www.redmediaafrica.com).