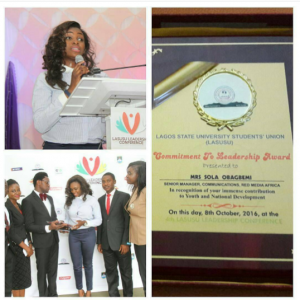 Senior Manager, Communication, Sola Obagbemi was keynote speaker at the 4th Lagos State University Students' Union (LASUSU) Leadership Conference on Saturday 8 October, 2016.
The conference themed "Oil boom and doom of mono-economy; the role of Nigerian Youths as agents of innovation and economic diversification for national stability" was focused on highlighting the various opportunities in other sectors of the Nigerian economy (other than the Petroleum Sector), which Nigerian Youths can exploit in an attempt to proffer solution to the time-honoured challenge of mono-economy.
She spoke to the attendees on 'Opportunities for exploration in the Media and Communications Industry'
The event took place at the Malaria Research Centre Hall (MRC HALL), Lagos State University Teaching Hospital (LASUTH), Ikeja, Lagos.