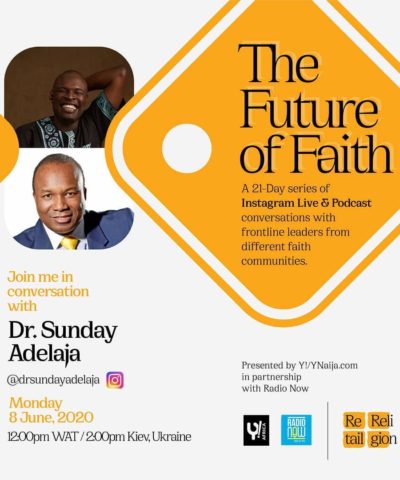 On the penultimate episode of The Future of Faith, an Instagram live-based show hosted by Chude Jideonwo, Senior pastor of the Embassy of the Blessed Kingdom of God for All Nations Church, Pastor Sunday Adelaja, broke down in tears as he spoke about the lack of love amongst Nigerian pastors.
In an emotional moment, the Ukraine based pastor called strongly for a culture of love, urging Nigerian pastors to "consider the people around who don't have justice; the poor and the needy" and to go forward in their ministry with a mindset of love, truth, and the gospel.
Known as an outspoken clergyman who is unafraid to publicly hold other Nigerian ministers accountable, the bravery associated with Pastor Adelaja's ministry was the base of his conversation with Chude Jideonwo.
When asked about his thoughts regarding the new wave of Christians and non-Christians questioning formidable religious dogmas and authority, he explained that, "Religious leaders have had Nigerian Christians, even the unbelievers in a firm grip. They were like if you did anything or questioned their authority, you would die. They were in this grip for so long and somebody needed to break that grip."
Pastor Adelaja also shared his views on the need for radical transparency, love and justice from religious leaders, as well as the importance of conscious thought and bold criticism from believers around the world.
The Future of Faith features faith leaders across religions and denominations. It is hosted exclusively on Chude Jideonwo's Instagram handle @Chudeity from Mondays to Fridays at 6pm and will be premiering on TV soon.