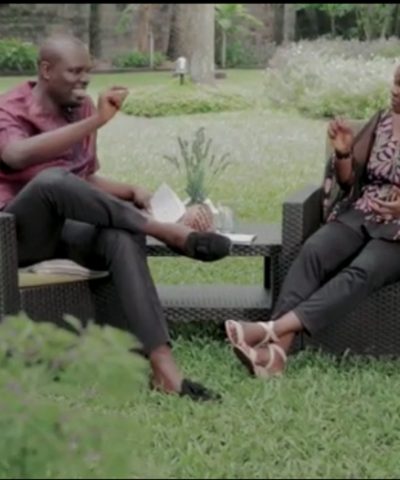 On this week's episode of #WithChude, certified John-Maxwell coach, maritime lawyer, and founder of The Discovery Centre, Mfon Ekpo, revealed to host, Chude Jideonwo the tussle she has had with fear in the early years of her career, and how she dealt with it.
Mfon Ekpo, who has run a seminar series since 2016 called The Blueprint of How, is hardly the kind of person one will imagine grappling with the fear of taking action on important life decisions. Yet as she disclosed in this interview, she had to battle and overcome fear before she could implement some of her greatest ideas.
Speaking about the earlier days of The Discovery Center, Mfon opened up about how she sold the idea that she had a company to people before she actually did, for fear that the Learning and Development product she sells was too intangible to warrant one. "I was afraid that this was not tangible enough to grow and build a company. That was my biggest fear for a while," Mfon said.
"I faced my fear. I left corporate, I left my job. And when I say I left my job it sounds like [nice] but it wasn't that nice. I was at a point where I'm like I can't continue like this, I can't continue this job, I can't continue with this environment, and the only other option was to start the company, the only other option was to do this thing I was afraid of."
The trick, she revealed, is to get so good at identifying one's source of fear that you are no longer afraid. "Now I just prod the source of that fear and ask 'what is this thing and why am I afraid of it?' that way you can take action."
The Blueprint of How, a 13-hour intensive seminar, has gone on to help hundreds of people to overcome fear and bring their ideas to life. The conversation goes further to delve into faith and love, in an electric, authentic, and unreserved way that only lifelong friends can bring to television.
#WithChude is a special series of targeted multimedia conversations and investigations focused on narratives that enable and strengthen the mind, heart, and spirit. New episodes of #WithChude show every Saturday at 9pm on TVC Entertainment, and every Thursday on EbonyLife TV at 7:30pm. With an extended play podcast up on Spotify, iTunes among other podcast platforms every Wednesday at 10am, everyone can join the conversations.