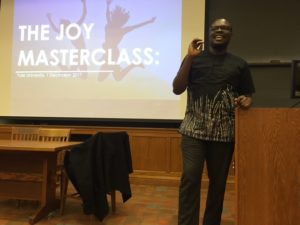 After 12 years as chief executive of media group, RED based out of Nigeria and Rwanda, Chude Jideonwo has announced his new venture, Joy, Inc. The company which has a mission to spread happiness across Africa was launched after he concluded a World Fellowship at Yale University in December 2017.
Joy, Inc. (www.joyinc.xyz) is a benefit corporation registered and based in Miami, Florida, with a Nigerian subsidiary. Through teaching and media products, it mainstreams the science and research on human flourishing, resilience and positive emotions to transform the culture and build a new generation of Africans focused on the greatest happiness for the greatest many.
"Africa has leapfrogged once before – from desktop to mobile – and it's time to leapfrog again," Jideonwo said in a statement. "The world is learning that income growth is not enough for the well-being of citizens, and the evidence shows that happier citizens build better societies. In fully harnessing the power of positive emotions in line with the current thinking across sociology, psychology, divinity and behavioural economics, Africa's new generation can possess the tools needed to not only tackle the continent's mental and emotional health crisis, but also leapfrog around the considerable obstacles that prevent its nations from achieving full potential and transforming nations.
"In doing this, we are also pioneering a new model of business – based on our benefit corporate structure – where all our profits are invested in a small network of Nigeria-based charities – including the Hearts of Gold Children's Hospice, the Mentally Aware Initiative Nigeria, and She Writes Woman. We seek to show clearly that businesses are crucial tools to solve Africa's critical problems, while building wealth, not for shareholders, but transparently for public good," he concluded.
A former board member with Microsoft 4Afrika, Jideonwo remains on the board of RED, of which he is a co-founder. He is also on the boards of the Oando Foundation and KiaKia Gas, and teaches undergraduate and postgraduate students at the Pan Atlantic University.
Joy, Inc. is supported by a Global Advisory Board that includes Laurie Santos, professor of psychology and cognitive science at Yale University; Craig Bailey of the Yale Center for Emotional Intelligence; David Marcotte of Fordham University, New York; Gbonjubola Abiri of the Federal Neuro-Psychiatric Hospital, Lagos; Jonathan Brakarsh of the Harare Hypnotherapy Group, Zimbabwe; Etheldreda Nakimuli-Mpungu of the Makerere University College of Health Sciences, Uganda; and Zainab Imam at Sidra Medical and Research Center, Qatar.
For more information: www.joyinc.xyz or [email protected].