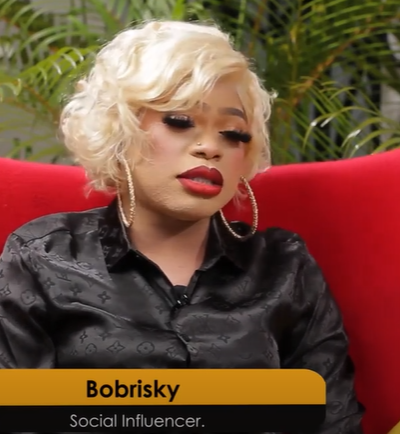 "If you don't have money, you can never be happy" – Bobrisky on fame, wealth and life as a famous crossdresser #WithChude
The guest on this week's episode is none other than the most popular crossdresser in Nigeria, Bobrisky. In this episode- which is her first and only interview on TV this year, she discussed the motivation behind her personal brand, her parents' reaction to her lifestyle and also divulged some juicy details about her new lover.
Born Idris Olanrewaju, the celebrity is now popularly referred to as "Bobrisky". Despite being a famous crossdresser, Bobrisky said that she wouldn't describe herself as "a woman".
However, she believes that "If you're a woman in this country, you have more opportunities to be successful."
Speaking about her parents' reaction to her career, Bobrisky told Chude, "My mum accepted it but my dad was like 'this is not our agreement. I thought this was for business, what is going on?'", she continued.
Asides her trans personality, Bobrisky is also known for her unconventional lifestyle as well as the numerous social media controversies and arguments she has been involved in. It is no news that the celebrity is filthy rich, evidenced by her lavish lifestyle which she flaunts on Instagram.  Looking to delve deeper into the matter, Chude Jideonwo asked the million-dollar question, "Where is this money coming from?" Bobrisky however, refused to disclose how she was able to afford her lifestyle, claiming that the moment she reveals her source of income, she would lose the very essence of what makes her the talk of the town.
Further emphasising her point on the importance of having money, Bobrisky said, "When you say money is not everything, you're lying to yourself. Money is everything. If you don't have money, you can never be happy".
Many of the fans that follow Bobrisky on social media are people who are attracted to those of the same sex. This group of people commonly expect that Bobrisky would use her influence to advocate for gay rights in Nigeria. However, Bobrisky is of the opinion that everyone should support him/herself. In her words, "Don't look at me, do your own. I can't speak for you".
When asked if she is truly happy, Bobrisky affirmed saying, "I am happy because that dream I want is coming to reality. I am happy".
See the video below:
#WithChude is a special series of targeted multimedia conversations and investigations focused on narratives that enable and strengthen the mind, heart, and spirit.
All past and new episodes of #WithChude premiere on Saturdays at 7 am on watch.withchude.com. You can also watch the show every Saturday on Channels TV at 1 pm, with reruns every Sunday on Wazobia TV Channel 98 at 5 pm, every every Tuesday on Rave Tv at 5pm, every Wednesday on Pop Central Station DSTV Channel 189 at 8 pm, and every Thursday on EbonyLife TV StarTimes Channel 189/191 at 7:30 pm.
An extended play podcast is up on listen.withchude.com, as well as on Apple Premium.
Everyone can join the conversation.